Duval Paint and Decorating's website predated responsive design and was in need of a redesign in order to cater to the changing needs of the majority of their consumers using mobile devices.
CHALLENGE
Duval Paint and Decorating, a Florida-based company, last redesigned their site in 2009 when they were referred to Wield by TrueCommerce/Nexternal. Though the Wield-designed site served them well for many years, by 2018, the non-responsive site was a hinderance to growth and well-overdue for a redesign that would improve their natural search rankings, support their marketing campaigns, and provide their customers with an enhanced online shopping experience. In addition to a redesign, their product categorization needed to be optimized for search and their paid ad campaigns required revisions and maintenance.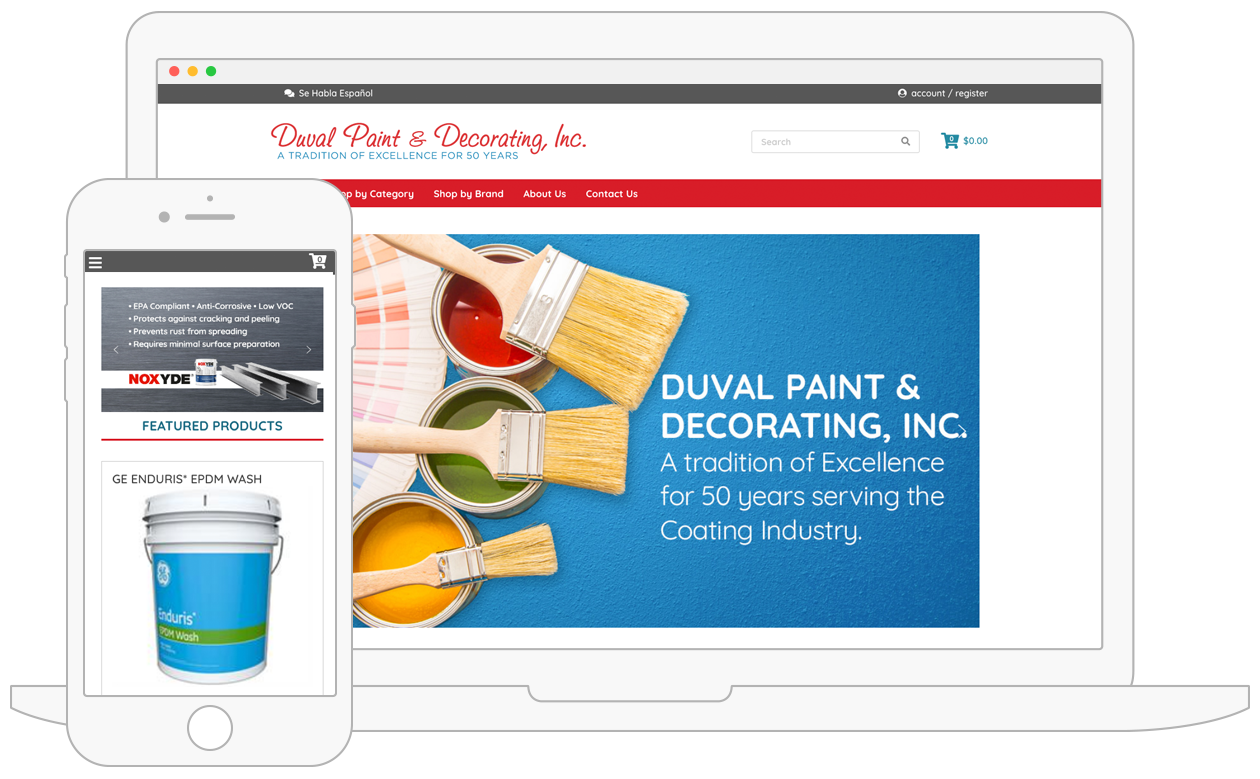 As a Nexternal client, their base website is hosted and managed separately from their storefront and order management. Duvalpaint.com needed a responsive base website, and their Nexternal storefront pages needed an overhaul both for desktop and mobile viewers.
Nexternal, an ecommerce platform well-established in the industry, offers a robust toolset for customizing their storefronts, however, there are limitations to what can be accomplished via their interface. Traditionally, a Nexternal storefront is recognizable by its cart column, positioned on the left or right, flanked on the other side by the category tree.
STRATEGY
Wield began by outlining the specific content needs of Nexternal clients as well as thinking outside the standard Nexternal box to imagine a Nexternal storefront that wasn't limited by the Nexternal interface layout options. Working with the client, we narrowed their categories down from 110 to 10 primary categories. Nexternal clients need a separate CMS for their base website that integrates with their Nexternal account allowing them to offer those common ecommerce features (search, navigation, featured products, account login, cart contents) that consumers expect to find on a retail site. Further, Nexternal offers two separate storefront layouts-mobile and desktop-each requiring their own layout design.
APPROACH
Wield knew that WordPress would provide Duval Paint and Decorating with a powerful, yet easy to use interface for managing their website content, keeping their home page current and providing their consumers with a responsive, user-friendly layout. As developers, Wield selected WordPress for the flexibility and scalability. We designed and developed a custom, responsive WordPress theme, as well as three critical WordPress widgets that seamlessly integrate valuable Nexternal data into the theme. The custom WordPress theme, with custom Nexternal widgets, cater specifically to Nexternal clients as well as the customers of those clients:
Integrated Search Suggestion – consumers can search the Nexternal catalog from any page on the site
Dynamic Cart Contents – consumers can see how many products are in their cart from non-Nexternal pages such as the home page
Featured Products – Nexternal store owners control which products are featured on a selected non-Nexternal page, such as the home page, by simply adding products to a designated category in Nexternal
Once the design for the new responsive base website was in place, that look and feel was carried over to their Nexternal storefronts – mobile and desktop. Utilizing embedded fonts, a custom color theme, customized HTML buttons, and a custom-developed shopping cart that drops down from the header, Wield enhanced the entire shopping process from the category and product pages through the checkout process and order confirmation.
Additional WordPress-Nexternal Services Included:
Re-categorization of product catalog
Product filters for improved search
Mailchimp-Wordpress integration
Gravity Forms installation and configuration for contact form
Graphic design for home page slides
Analytics tracking set up and testing
Nexternal mobile storefront design
Nexternal desktop storefront design
CONCLUSION
For more than 50 years, Duval Paint and Decorating has offered quality paints and stains backed by personalized customer service (English and Spanish), and their new site reflects this commitment to their customers. The site seamlessly integrates value-adding features for customer retention including dynamic product displays, always-visible cart contents, easy account access, mailing list sign up, prominent contact information, and an enhanced online shopping experience for both desktop and mobile users. Furthermore, key app integrations including MailChimp, for email subscriptions and email campaign management, and integrated Nexternal assets save Duval Paint and Decorating both time and money by automating valuable business operations.