Wield designed a fully responsive, custom WordPress theme, focused on product accessiblity, for The Club by Winner International, INC.
challenge
Winner International, makers of The Club steering wheel lock, approached us in need of a website makeover. Their site was narrow, dark, and non-responsive. Additionally, the small drop down menu providing consumers with access to their products was not user-friendly or easy to locate. In other words, consumers struggled to use the site and locate the products and information they needed.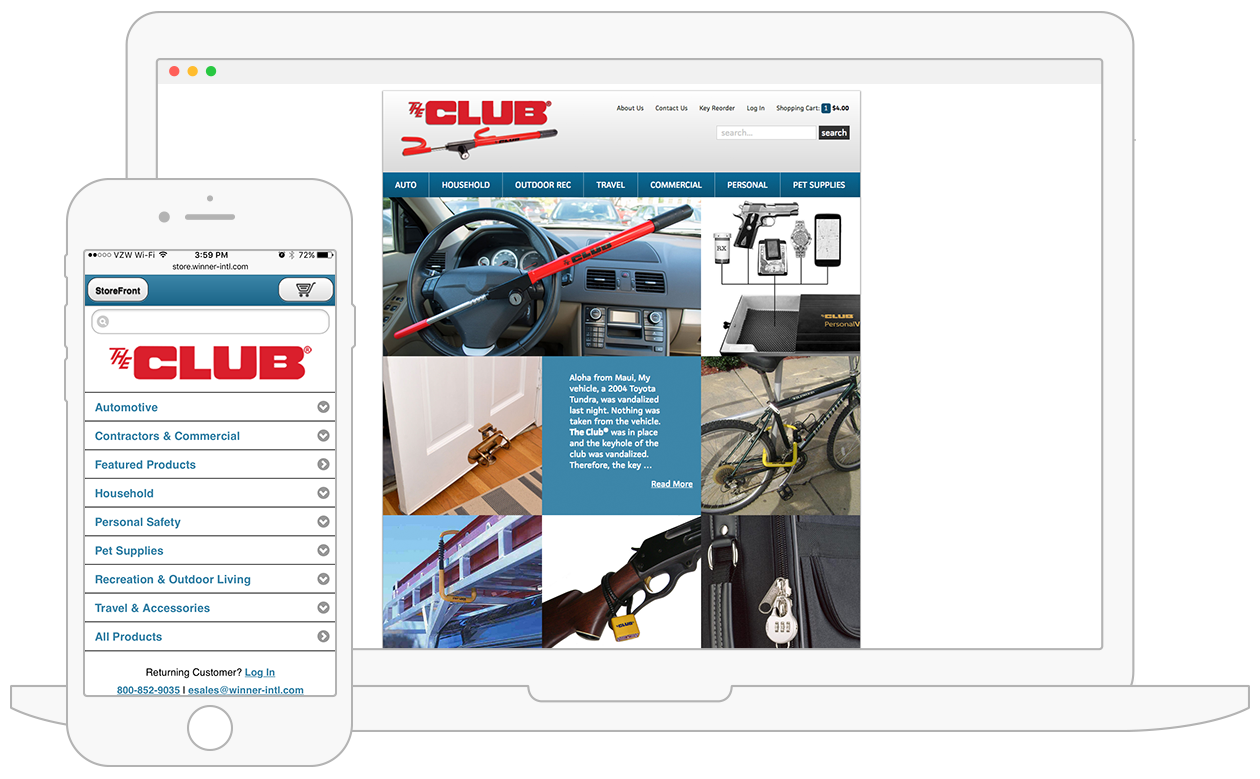 approach
Wield designed a fully responsive, custom theme for WordPress. The new layout focused on product navigation, displaying the primary categories across the top of the page, with simple drop down menus for the sub-categories. The new navigation provided not only an overview of The Club's wide array of products, but quick and easy access to the category and product pages.
For those consumers looking to learn more about The Club scrolling down the page, just beneath the primary navigation, we presented 8 featured blocks displaying an image and short description of The Club's primary categories: Auto Security, Home Security, Personal Security, Recreational Security, Travel Security, and Firearm Safety.  An additional feature block dynamically displays customer testimonials.
The home page also displays featured products via a customized widget integrated directly with their ecommerce platform, Nexternal Solutions. The Club can easily update the featured products by adding products to a designated category in Nexternal.
The Club proudly displays their Women's Choice Award for both 2014 and 2015. The CLUB was recognized as 'America's Most Recommended Anti-Theft Wheel Lock' based on a national survey to determine the most recommended and trusted brands by women across America.
As with any redesign, the overall look and feel changed. However, the most drastic visual difference is on small screens. Before the responsive build, Theclub.com was too small on a mobile device to use without zooming in, and the flash-driven slideshow didn't render on all devices.
conclusion
The responsive design displays beautifully both on larger and small screens—providing users with easy access to all of the site's features. On larger screens, visitors are presented with a wide, accessible layout; and on smaller screens, the content dynamically stacks, allowing for easy, vertical scrolling.