Wield custom built Sanford Guide's existing Wordpress look and feel into their Nexternal storefront. We expanded the width of the overall layout, giving their content room to breath.
challenge
Sanford Guide had selected a new WordPress theme, and updated the look, feel, and layout of their base website. They now had a clean, open responsive site that encouraged their visitors to learn more about their digital products and purchase subscriptions.
Their Nexternal Solutions' storefront however retained the former site's layout. That layout was small and confined the content to a limited area, making it chalenging to read on mobile devices.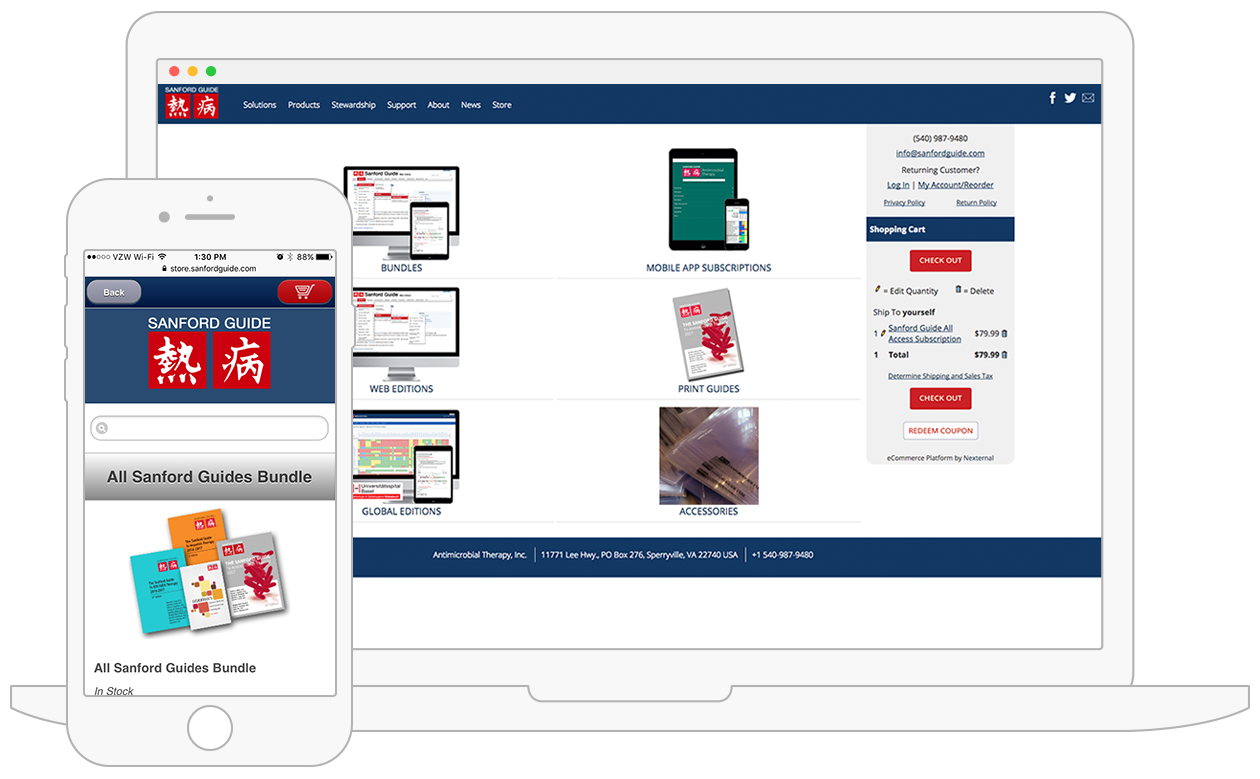 strategy
Wield custom built the WordPress look and feel into their Nexternal storefront, called the bordering HTML. We used Nexternal's Stager layout feature so as not to affect the live site during production. We expanded the overall layout both in terms of width as well as margins and padding—giving their content room to breath. Furthermore, we updated the fonts including the font-family, size, color, line height and spacing—again with legibility and usability in mind.
In addition to customizing the desktop layout, we enabled and customized their Nexternal Mobile Storefront as well. Nexternal detects the users' device and automatically displays the mobile storefront if the site is being viewed on either a tablet or phone. Wield customized the mobile storefront with their logo, fonts, color scheme, and navigation.
Sanford Guide also requested some minor changes to their WordPress layout. When editing an existing theme, best practices call for creating a clone or child theme of the active theme. In the words of WordPress Codex, "A child theme is a theme that inherits the functionality and styling of another theme, called the parent theme. Child themes are the recommended way of modifying an existing theme."
After creating the child theme, we created style.css for our layout changes to their menu and footer. Their selected theme allows for two sides in the footer – both of which can contain either a menu or html. Using CSS, we hid the left side, and and expanded the width of the right side to 100%—thereby creating a single, full width footer area to display their contact information.
conclusion
The end result is a mobile-accessible, consistently branded experience from the home page throughout the shopping experience.
Check it out!
www.sanfordguide.com