The Montessori Discovery School in Lebanon, NH wanted to provide the families of their enrolled students, as well as those families looking for options for their preschool- and kindergarten-aged children with an engaging resource to learn about the Montessori method and their unique programs.
challenge
The original site lacked the quality and depth of information that MDS had to share. The site was not responsive nor mobile-optimized, and was therefore difficult to see on small screens. Furthermore, their content management platform did not offer sufficient features or tools for managing a dynamic, engaging web site. And most troubling, their static website was nearly non-existent in search engines.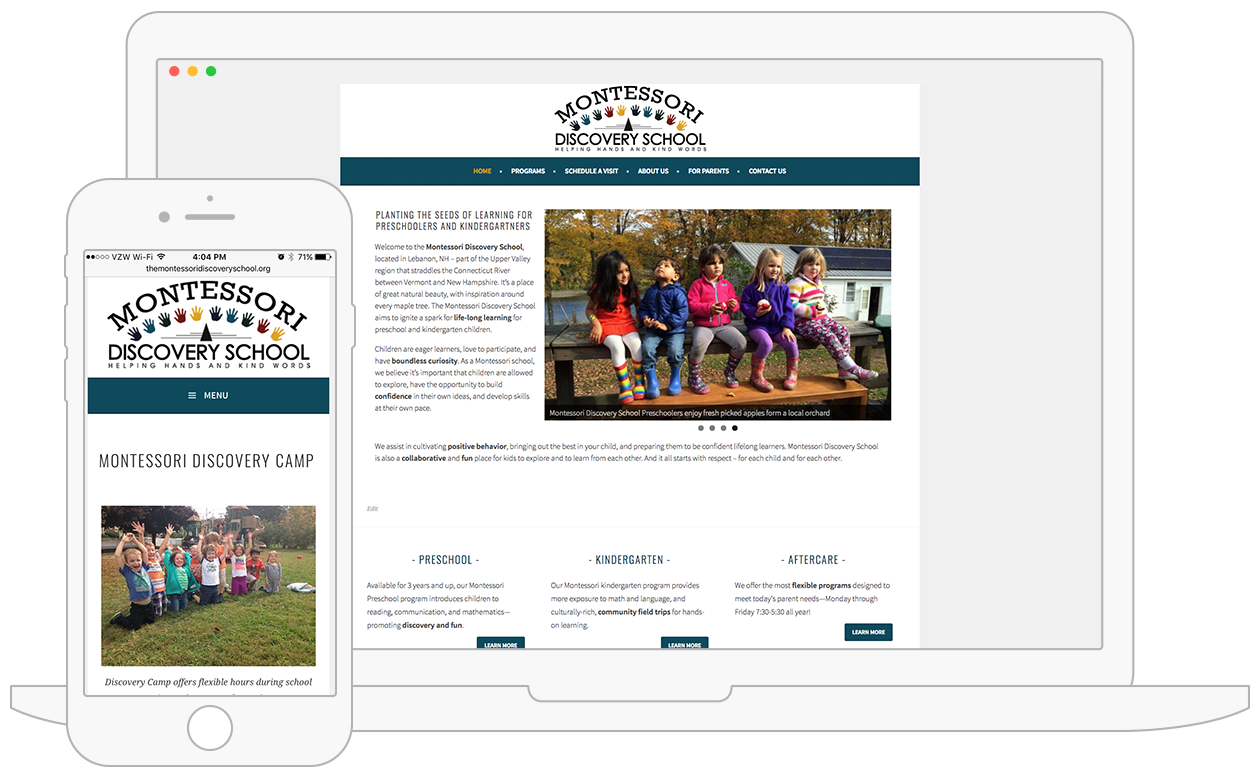 strategy
We started with several meetings and staff interviews to build up relevant, search friendly content. That content then became the foundation of the new site.
approach
We built the new site on WordPress, with a customized, responsive theme, thereby providing school administration with not only a simple user-interface, but with endless user-friendly tools for maintaining and further enhancing their website.
In addition to information about their school programs, the new site provides answers to commonly asked questions, comprehensive information about the Montessori method and it's benefits, easy contact forms, as well as vibrant photos of Montessori Discovery School students enjoying their experience at the school.
The responsive theme of the website provides users on any screen size with access to the valuable information that The Montessori Discovery School offers. Parents can learn more about their aftercare programs, get directions, send a quick note to the administration, schedule a visit, learn about the staff, and more.  Coming soon, parents will be able to check for school events, closings, read parent testimonials, and view photos from recent school activities and field trips.
global results
70

%

increase in Yahoo organic traffic

16

%

increase in Google organic traffic

30

%

decrease in bounce rate
40

%

more page views

56

%

more time spent on site
In an effort to further boost Montessori Discovery School's search visibility, parents were encouraged to visit and review the school's business listing in Google. The added attention and positive reviews bumped MDS in search rankings to page one.
local results
2951

people saw the 4.7-star rated business on Google

335

people saw the 4.7-star rated business on Google Maps

55

people found the phone number on Google and called
31

people asked for directions to the business

4

people reviewed the business on Google
conclusion
The Montessori Discovery School's new responsive website is search optimized and loaded with useful information for interested families.
A Montessori Discovery School parent had this to say about the new site:
…as a parent, I do a lot of research before making education decisions for our kids. This site is not only is an incredible resource for parents, but establishes the school as the de facto expert in the field of education in the area. I read the whole site…because I was genuinely interested to learn about the school and Montessori. I would have LOVED if this site was in place when I was choosing a preschool 4 years ago. I think I would have settled on MDS much earlier in the decision process.