Wield's Nexternal—WordPress integrations include a variety of valuable tools that help streamline workflow and increase customer retention.
CHALLENGE
Mountain View Medical Supply, an early pioneer of online medical supplies, has been online since 2005. Their site was last updated in 2013 and was not responsive, negatively affecting their search rankings and preventing the majority of their visitors from easily viewing and purchasing their products. In their search for an ecommerce platform with robust B2B capabilities, they discovered TrueCommerce/Nexternal who then referred MVMS to Wield for their responsive website redesign and data migration needs.
MVMS was looking to upgrade their online presence, improving their search rankings and simplifying the shopping process for their customers, while improving order management for their administrators.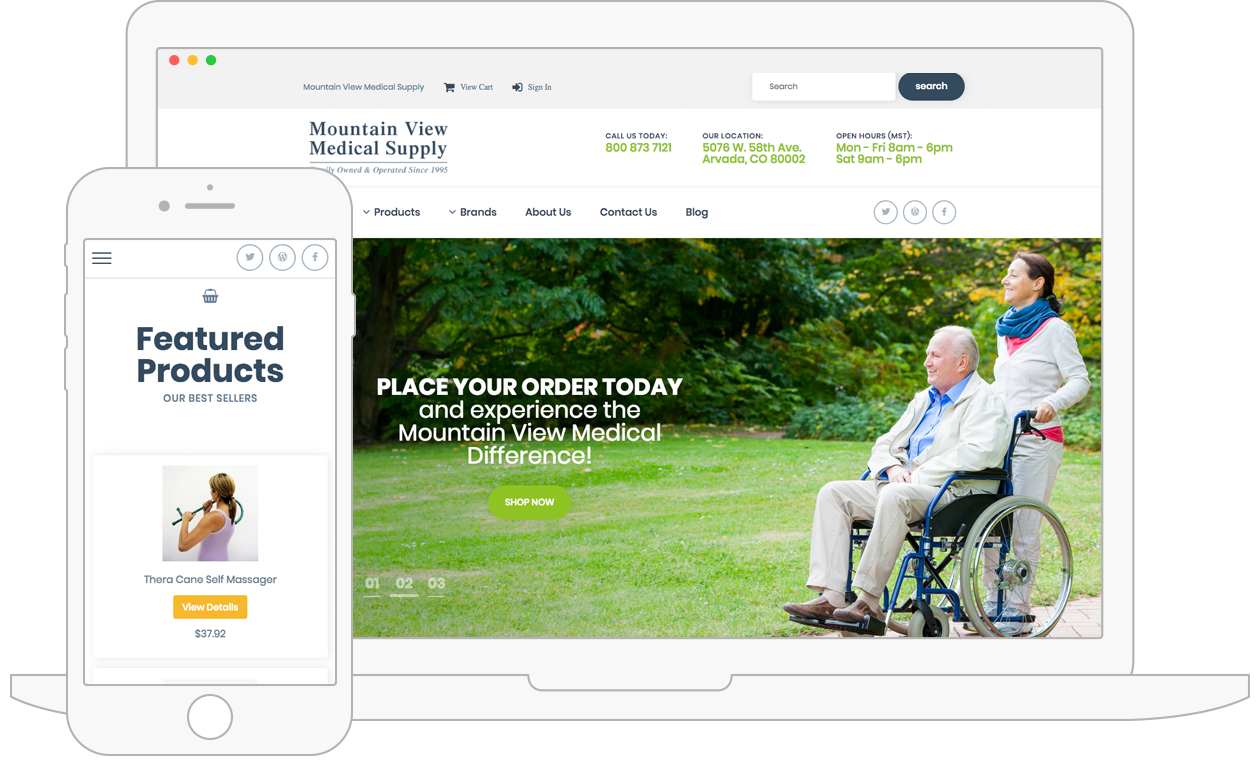 STRATEGY
Beginning with a brand and competitor analysis, Wield worked with the client to select a WordPress theme that suited their aesthetic, while providing a user-friendly layout and site structure to meet the needs of both their content as well as their target market. Consumers in the medical device industry are generally older, and have unique needs for online shopping—larger fonts, accessible customer support, and simple navigation; and for their other primary customer, caregivers, those same features deliver an intuitive shopping experience.
Although the majority of MVMS' customers historically have fallen within the 45-65 range, their products serve a wide age range, with child-sized crutches, fall-prevention socks and wheelchairs. Wield worked to draw attention to this untapped market with prominent imagery on the home page and updated navigation.
APPROACH
Wield was tasked with developing a strategy to migrate their complex product data from their existing platform to Nexternal. Wield developed scripts that would parse their data, separating the simple products from the complex (products with options). Parent products and their related children were isolated from simple products, for the necessary import structure required by Nexternal. The product data was then formatted for a successful import to Nexternal.
A review of their traffic data allowed us to pinpoint their site pages that had been indexed and received significant traffic. With that data, we created the necessary 301 redirects to preserve those valuable rankings.
In addition to migrating their product data, we also formatted and imported their customer data, configuring Nexternal to automatically send each user an email notifying them of the new site and providing them with their new password.
Additional WordPress-Nexternal Services Included:
Mailchimp-Wordpress integration
Nexternal Integration – search and featured products
Nexternal site sync support
Graphic design for home page slides
Blogger blog migration to WordPress
Analytics tracking set up and testing
CONCLUSION
MVMS prides themselves on superior customer service and their new site reflects this commitment to their customers. The site seamlessly integrates value-adding features for customer retention including current blog articles, dynamic product displays, customer testimonials, easy-to-find contact information, and an enhanced online shopping experience. Furthermore, key app integrations including MailChimp, for email subscriptions as well as email campaign management, and Authorize.net, for secure, online payment processing, save MVMS both time and money by automating necessary business operations.