Grantham Indoor was ready to make some big changes to their website in order to simplify website management and improve their users' experience.
Rewind
Remember in the 'olden' days, when websites were constructed entirely of static html pages, any content that was repeated on more than one page was placed with virtual includes, and rotating images were controlled with Flash? Begrudgingly, we do.
There is something to be said of the durability of those old sites – they have lasting power and in most cases, they get the job done.  However, when it comes to accessibility and scalability, there are a myriad of reasons why those sites were replaced with content management systems that focused on usability – both for the website visitor and the website administrator.
challenge
Fast forward 10 years, and Grantham Indoor was ready to make some big changes! They were admittedly overdue for a responsive site that catered to their athletes and athletes' parents. The content needed to be accessible to both their users and their site admin. Their previous site had inconsistent navigation, a Flash logo and Flash image galleries that didn't display on Apple devices, and because the site wasn't responsive, it displayed small on mobile devices, making game schedules hard to locate.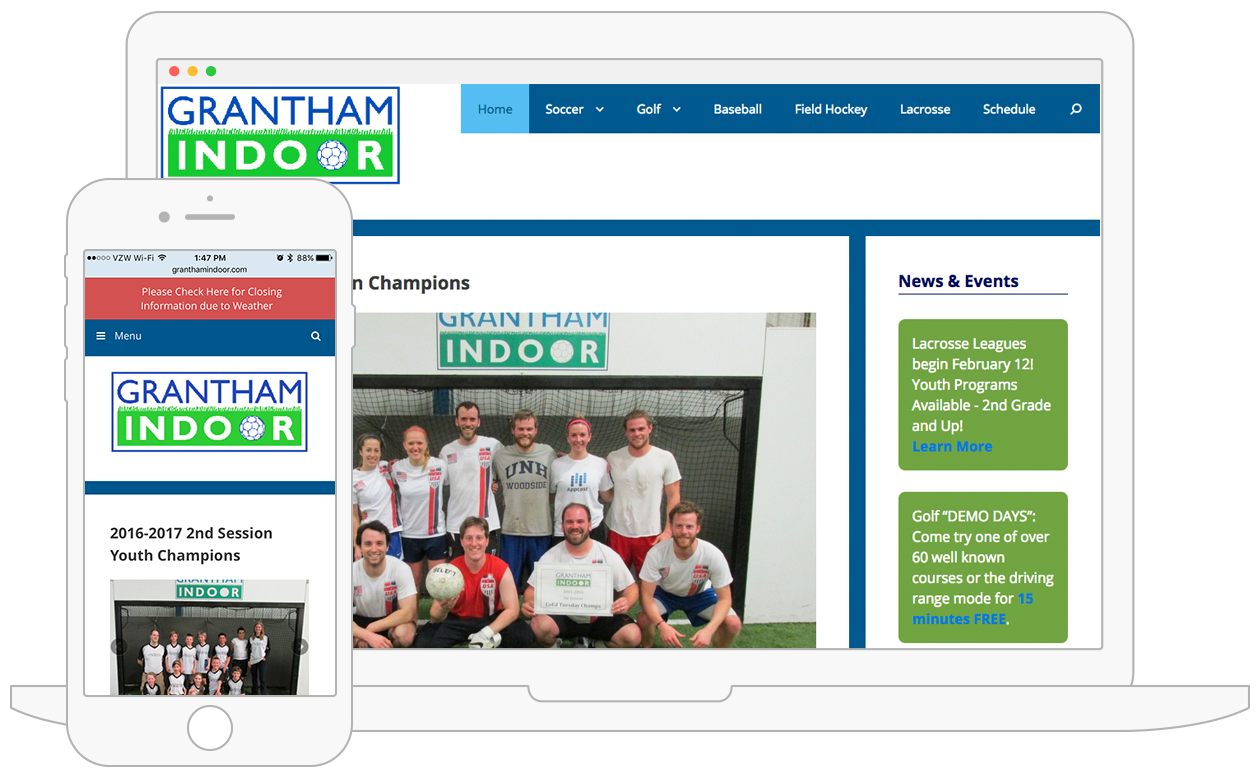 strategy
We were first introduced to Grantham Indoor's site in 2006.  Over the past decade we've assisted them in integrating applications to simplify website management, such as a Google calendar for their team schedules and 3rd party scores, standings and scheduling software. Additionally we managed the website content – keeping it current with important dates as well as each season's league champions' photos.
Our familiarity with their website as well as their content needs allowed us to quickly hone in on a suitable platform.
approach
We migrated their existing content to a customized, responsive WordPress theme—gone are the days of making changes, via an FTP editor, to static HTML pages loaded with deprecated coding. We organized the site content by sport, with consistent navigation and content blocks for schedules, rule books and age requirements.
conclusion
Grantham Indoor's new responsive website organized their content – making it quick and easy for athlete's to find the information they need. And Grantham Indoor staff can now quickly and easily post notices for weather-related closings as well as special events.  Athletes and league members can quickly and easily access scores, standings, and schedules, as well as view photos of the latest league champions.