Wield, a certified BigCommerce partner, has been helping clients migrate their ecommerce stores to the platform since 2014.
CHALLENGE
When The Green Pharmacy was ready to migrate from their ecommerce platform, with whom they'd used since 2004, Wield was prepared to make the migration as risk-free as possible. After 15 years of selling vitamins, supplements, and homeopathic remedies online, their site was well established in search engines, and we needed to be sure their rankings were unaffected by the move.
In addition to taking great care to ensure that rankings are unaffected, Wield also supports clients through the expected and unexpected challenges that come with moving to a new platform. We understand and expect the learning curve that accompanies the set up of shipping, payment gateways, taxes and products on a new platform – and if we can't answer your question, we'll find the answer, because having a deep understanding of the platforms we work with benefits all of our customers.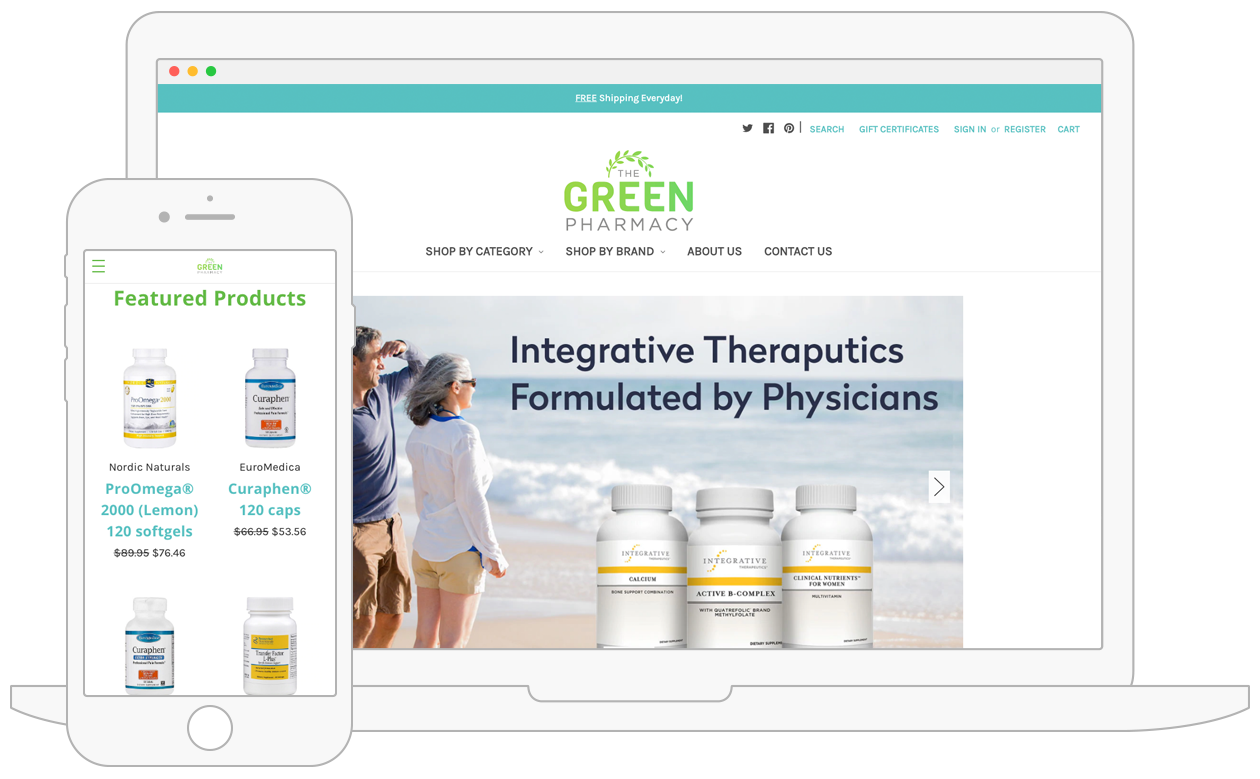 The Green Pharmacy, one of our oldest (and most expressive) clients said,
"When we decided to make the move to the BigCommerce platform, [Wield was] the logical choice to help us navigate what felt like a massive undertaking. When you are dealing with 4,000+ products, such a move is the fodder of nightmares; Wield walked through the entire process with us with the aplomb of experienced veterans. On the days we were hyperventilating because of what seemed to be insurmountable obstacles, they calmly and efficiently neutered the dragon; when it seemed the porting of thousands of products simply wouldn't work, they wrote custom programs that allowed the impossible to be adroitly addressed. When we couldn't figure out where to find the answer in the massive BigCommerce archives, they quickly found and applied it. We continue to use them to tweak and improve our site and we're going to keep them on our team like stink on a skunk!"
STRATEGY
The Green Pharmacy's original ecommerce platform lacked some key data export capabilities – namely the product URL. In order to ensure we retained their longstanding search engine rankings, 301 redirects were a primary focus. BigCommerce provides key app integrations with valuable tools that help streamline business management including ShipStation and Google Shopping.
APPROACH
We developed a custom XML tool that taps into their original ecommerce platform and exports the product URLs. These were used for two primary purposes. First, the URLs were assigned to their respective product pages on BigCommerce, allowing us to retain the same URL structure across both platforms, making the 301 redirect development far less complex. Secondly, those URLs were used to assign the 301 redirects directly within the original ecommerce platform. When a consumer tries to visit the original product page, they are seamlessly redirected to the same product page on BigCommerce.
CONCLUSION
Wield and The Green Pharmacy have worked together since 2006. In that time, ecommerce has grown into such a part of our daily lives, that we don't remember a time when buying online wasn't even an option. Together, we've kept up with and adapted to both the way the internet has grown as well as with all the ways consumers use the internet to find the products they need. Today, Wield and The Green Pharmacy continue to work together on email marketing campaigns, regular site updates, shopping feed product support, and more.