"Part of the reason I enjoy working with [Wield is] your thoroughness and "big picture" eye, as well as an explanation of both the mechanics behind the curtain and the "why" of your recommendation," said Joe Carr, Owner of Wellbrella.com.
CHALLENGE
Wellness Therapies has had an online store since 2003, however, their domain name contained the word 'pharmacy' – a red flag for Google Ads. Even though Google certified them as a pharmacy, their ads were all too frequently prohibited, thereby negatively impacting their overall marketing strategy and, ultimately, the growth of the business. Wellness Therapies wanted to take the success of their long-time online retail store, and with a new name, break into the competitive market of vitamins and supplements, with an ecommerce store they could advertise.
In addition to needing a new brand as well as a new ecommerce platform, their product data (images, pricing, descriptions and more) would need to be extracted, formatted, and migrated to the new platform. And once all those assets were in place, the new brand required an aggressive marketing strategy to launch it out of anonymity.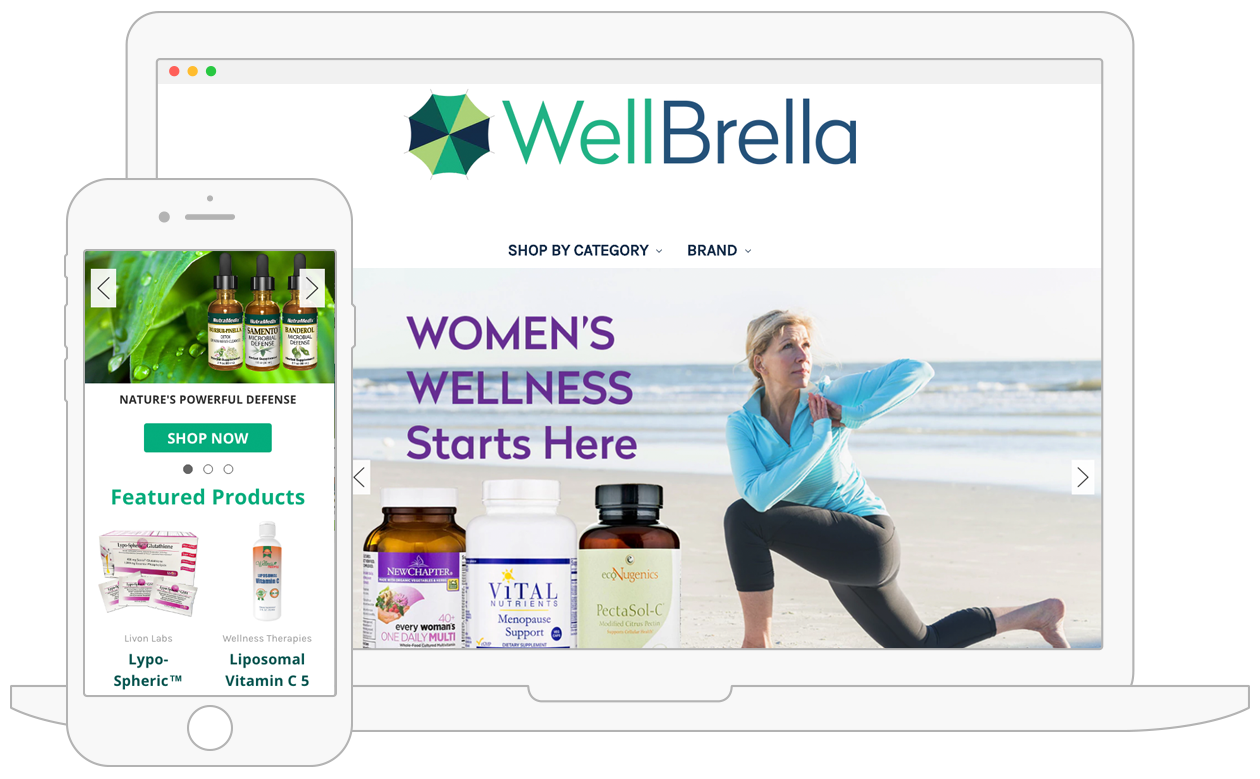 STRATEGY
The vitamins and supplements market is well established online, and introducing a new brand is no small task. Wield dove deep into the market, comparing the historical data of Wellness Therapies' existing online store with that of its biggest competitors. We already knew that Wellness Therapies' products were in demand. What we set out to discover is how consumers in this market behave and what features and tools engage them and convert them from visitors to repeat customers.
The new brand needed to communicate wellness and dependability and be accessible across a variety of mediums. And the new site needed to be user-friendly, not just for consumers, but for admins as well.
APPROACH
Wield developed a sales strategy built upon extensive market research and competitor insights to establish a complete brand identity including brand name, domain name, logo, as well as style and voice/tone guides.
The new brand, with it's fresh aesthetic was then transformed into a customized BigCommerce theme with valuable apps configured to streamline business operations.
Successfully introducing the new brand to its target market includes branded social media, ongoing and active social networking, a customized email campaign, Google and Facebook paid advertising, and search optimization.
CONCLUSION
Wellbrella is hosted on BigCommerce's state-of-the-art servers, boasting 99.99% average uptime and PCI compliance. The company is taking advantage of BigCommerce's easy and intuitive integrations with QuickBooks, ShipStation, MailChimp, and Google Shopping—improving the workflow for store administration while simultaneously providing consumers with a forward-thinking, customer-first online shopping experience. They are well positioned to break into the competitive vitamins and supplements market, with a rock-solid foundation and an engaging integrated marketing strategy.